Blog & Events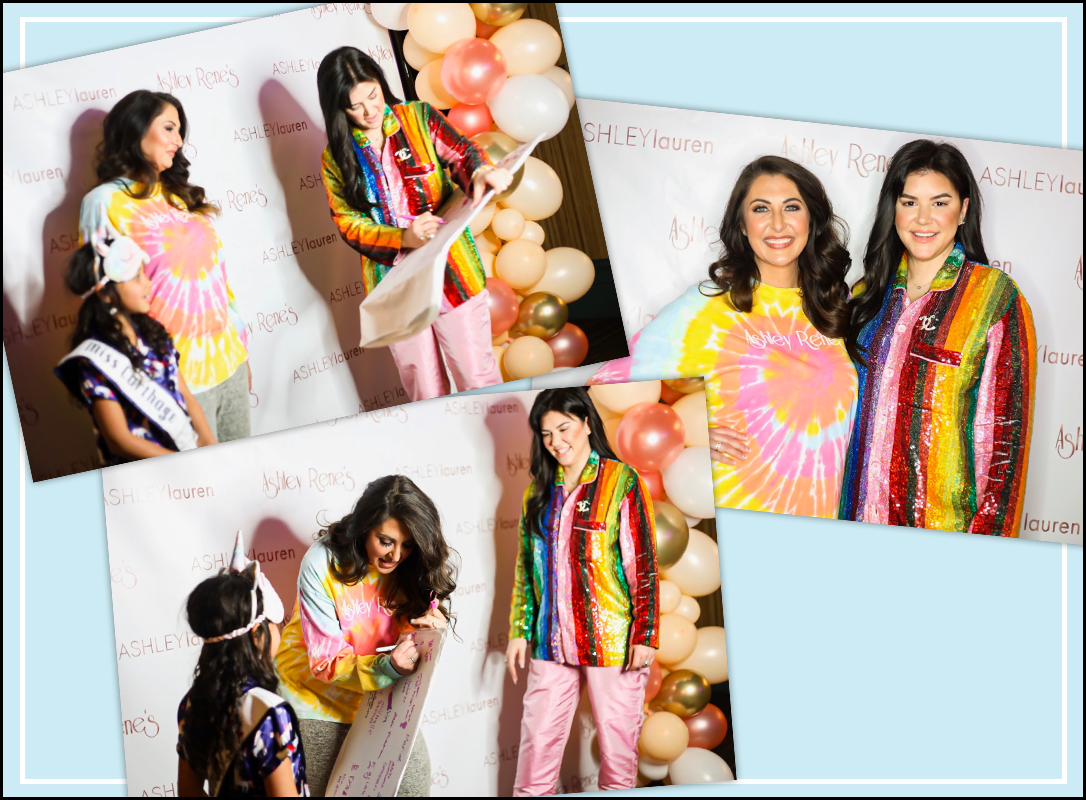 #TEAMfabulous had a blast in sunny California at
#NAMNationals19
! We met so many incredible titleholders, dressed national judges and celebrated at the NAM Pajama Jam!

The
Ashley Rene's
x ASHLEYlauren Trunk Show was epic! From custom couture gowns, interview tweeds to fun and flirty cocktail dresses and killer runway outfits, #TEAMfabulous was so proud to be a National Sponsor for the National American Miss Organization! Here are some of our favorite looks this week!

Sarah Rose Summers, Miss USA, and Hailey Colborn, Miss Teen USA, looked absolutely killer for the Thanksgiving Banquet.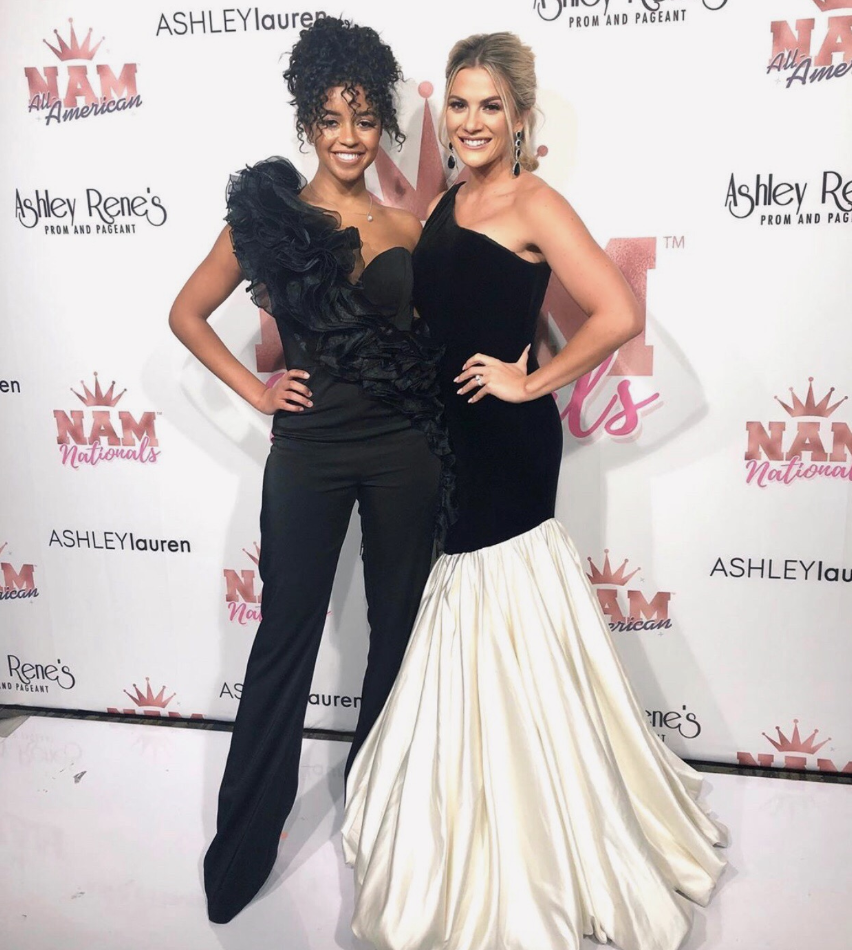 Sarah Rose is wearing
Style 1779
! This one shoulder velvet fit and flare gown is so sophisticated but we always add a bit of fun with a full bubble hem. Hailey is wearing
Style 1776
! Another one shoulder look however this jumpsuit is accented with a bold ruffle!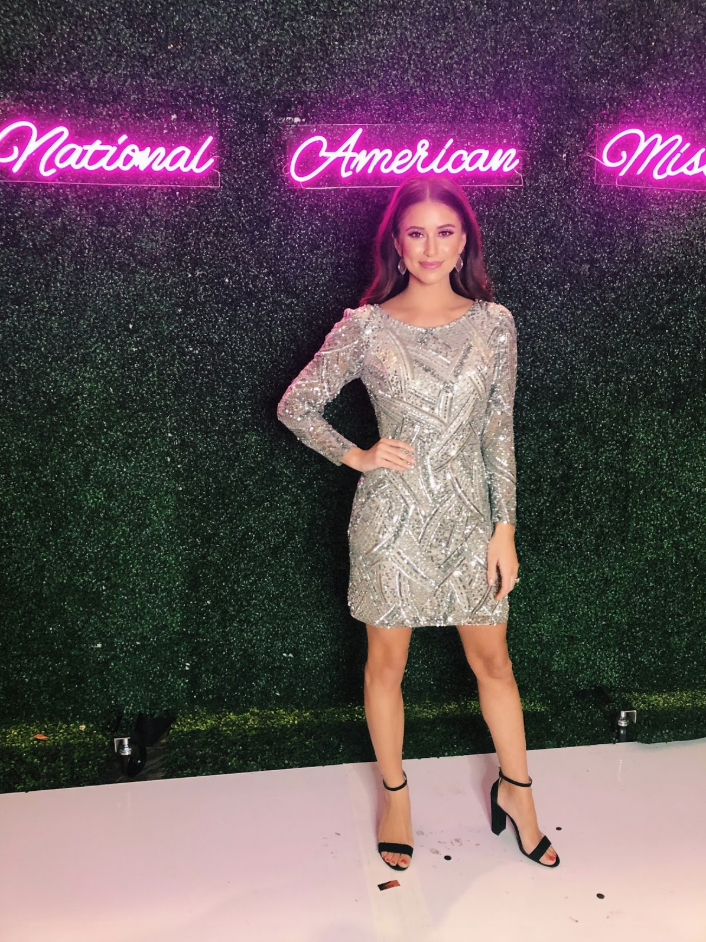 Nia Sanchez, Miss USA, looked fabulous in
Style 4122
for the final night of competitions! Being fully beaded, you are sure to sparkle all night long!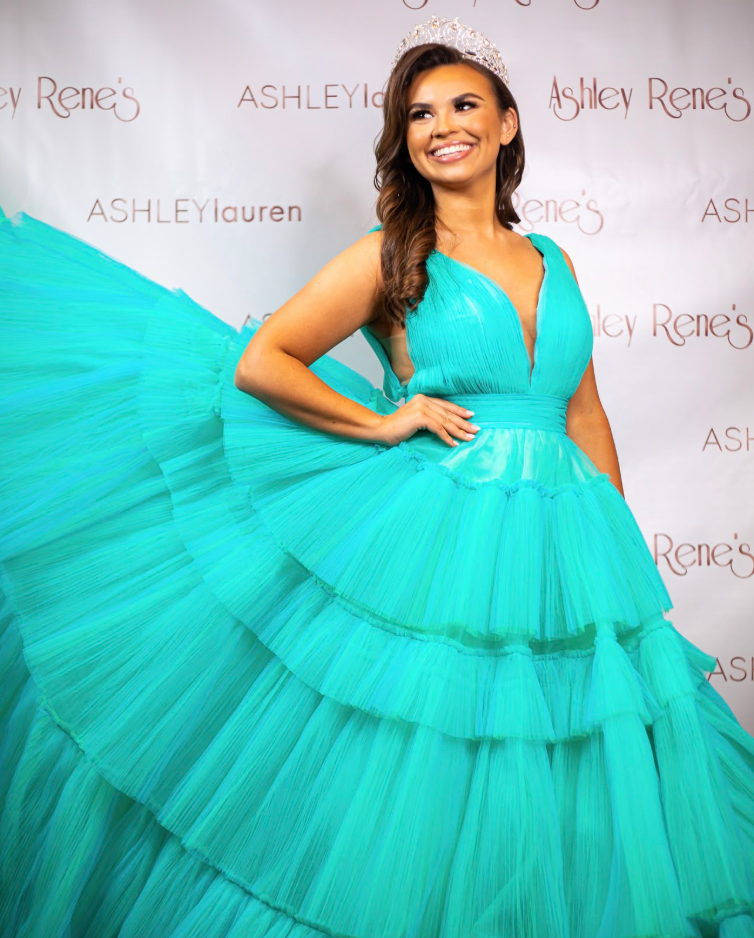 Sarah Cooper, National All-American Miss, looks iconic in
Style 1749
! This pleated tulle tiered ball gown in sky/aqua will leave everyone speechless! We are always bringing the drama!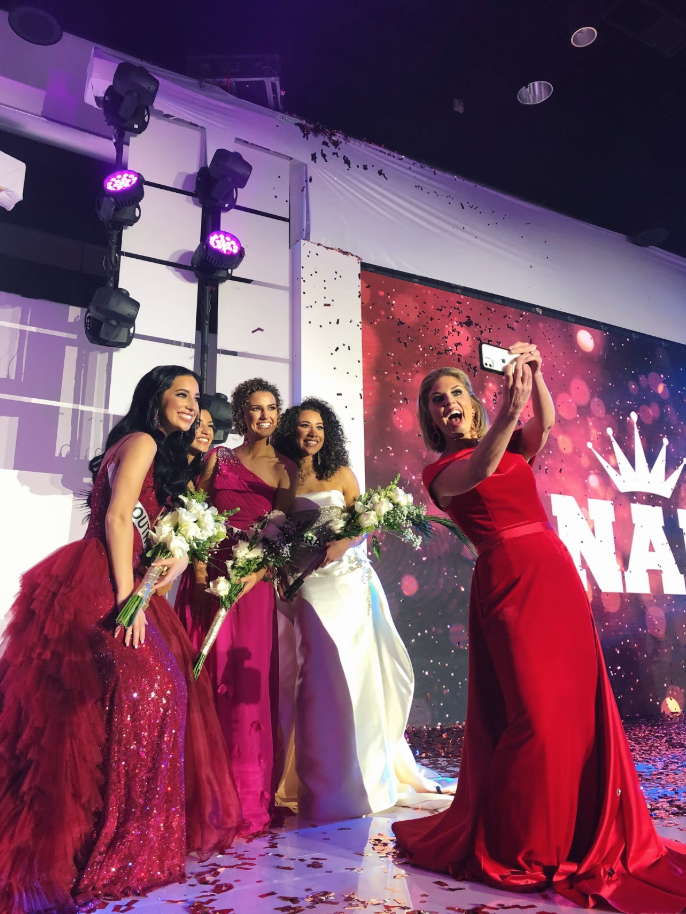 The fabulous Joy Soprano, official Emcee for National American Miss looked dynamite in
Style 1588
! This off the shoulder velvet gown with a satin over skirt is simple yet effective in creating a grand and dramatic entrance!

The Official Opening Number Dresses were custom designed by #ASHLEYlauren and provided by Ashley Rene's! The incredible NAM National Finalists rocked these adorable rose gold dresses on stage and looked #TEAMfabulous!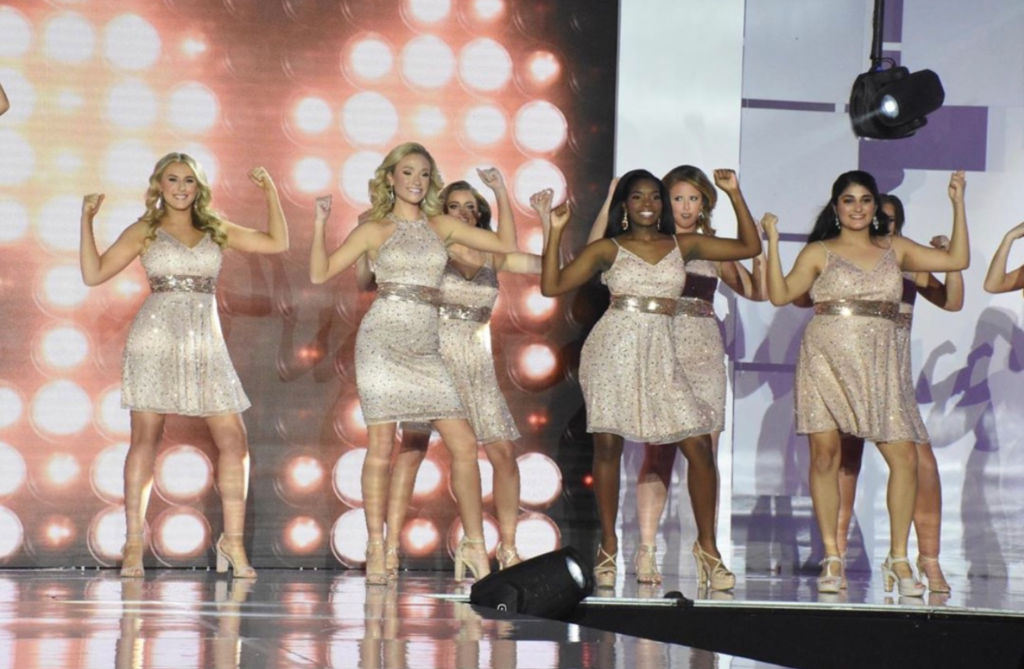 We are so excited to announce the Senior Face of Ashley Rene's, Ava Ernst! Ava killed it on the runway in a full fringe beaded cocktail dress in ice blue! Ava will be headed to Atlanta this summer to model for ASHLEYlauren during World of Prom! We are so excited to have her join #TEAMfabulous!

Lastly, the NAM Pajama Jam was everything! ASHLEYlauren and Ashley Rene's enjoyed signing autographs pillowcases, snapping fun Instagram photos and sponsoring the PJ Party with special sweet treats!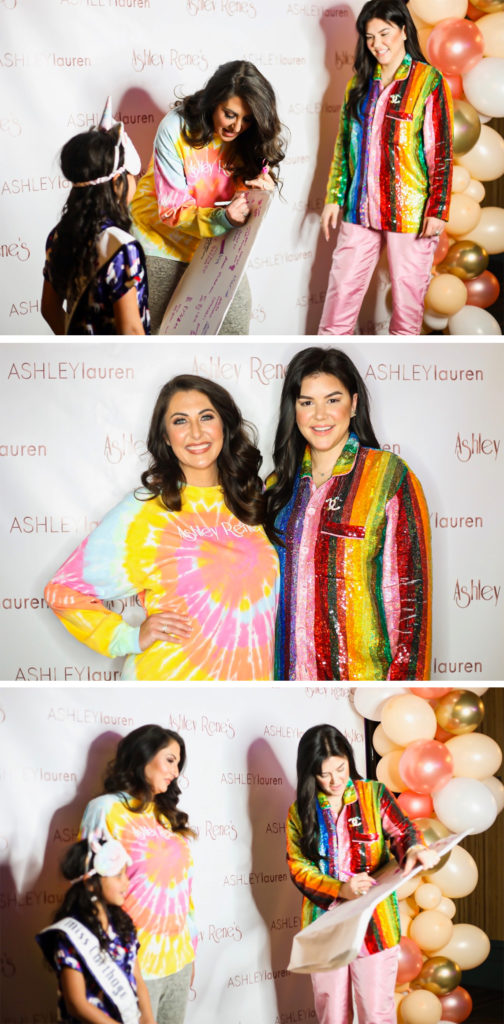 ___________________________________________________________________________________________________________________________________
You're Invited!
Ashley Rene's: National American Miss Official National Sponsor
For the last two years, Ashley Rene's has been thrilled to partner with one of the industry's leading designers, ASHLEYlauren, to design and create the Official NAM National Opening Number Dress. This year, we have joined forces to not only provide contestants with what we think is the best opening number dress yet, but also, provide the experience to shop with us at Nationals!
You read that correctly! The Ashley Rene's and ASHLEYlauren teams will be in Anaheim, California at NAM Nationals all week! From November 23rd-November 29th you will be able to come shop ASHLEYlauren's latest designs whether it be wardrobe for competition such as formal wear, interview, spokesmodel, talent, runway or for any other future pageants or events you may have! ASHLEYlauren will be bringing never-before-seen and one-of-a-kind pieces just for NAM! Whether you are a Princess or in the Miss division there will be something for you at this exclusive trunk show located in the Ballroom Area of the Marriott Convention Center.
Have you always wanted to create a custom gown? This will be your chance! Sit down and design the gown of your dreams with ASHLEYlauren, herself!
Once you find the perfect wardrobe, you will be able to shop a selection of accessories from NAM National Sponsor, Stefanie Somers! Still need matching earrings for your Opening Number Dress? We will have those, too!
The opportunities will be endless when you get to work with NAM National Sponsors Ashley Rene's and ASHLEYlauren!
Fun fact: Ashley Rene Tucker-Swathwood was the very first NAM National Miss Titleholder in 2003! You will be in great hands with a knowledgeable AND fashionable team!

In the upcoming weeks we will be providing more information on how to schedule your appointment to ensure you don't miss out on this amazing experience!
We cannot wait to work with you-- the countdown is on!



___________________________________________________________________________________________________________________________________



Let's get pageant ready! Join us for our upcoming Pageant Prep Weekend!

Feel your best at your next pageant after working with the best in the Michiana area!
It's that time of year! Ashley Rene's is hosting a Pageant Prep Weekend with some of the Industry's finest August 16th-18th!
We are now taking appointments for our Sherri Hill Couture, ASHLEYlauren, & Fernando Wong Interview Trunk Shows! Come see what the Michiana area has to offer for all things pageant... with opportunities for headshots by Meagan Gilbert Photography, make-up lessons by Ashley Troxel, coaching by Pageants2Go and Reign Pageantry & being styled by the best at Ashley Rene's — you will leave feeling fully prepared for your upcoming pageant!
Email ashleyrenes411@gmail.com for more information or to schedule a wardrobe appointment
and get contact information for the other opportunies this Pageant Prep Weekend has to offer!
___________________________________________________________________________________________________________________________________
AYOP IS JUST AROUND THE CORNER AND WE HAVE SOME EXCITING NEWS...
July 21st-27th, 2019
Come see our new location in Granger, Indiana! Within walking distance from the Holiday Inn and Hampton Inn, you can shop the thousands of dresses in stock and hundreds on sale up to 75% off just for you

!

Twirlers receive an

extra discount off accessories

and a free gift with purchase

!

From cocktail dresses, long gowns, interview attire, little girl dresses and jumpsuits, and all the accessories you could imagine... Ashley Rene's is the place to get any last minute winning wardrobe pieces!


Are you ready to be an #ashleyrenesgirl? Check out some of our favorite twirlers and pageant clients!


___________________________________________________________________________________________________________________________________

Sherri Hill Couture Trunk Show
at Ashley Rene's May 17th-19th, 2019


Ashley Rene's is excited to announce that we will be hosting a Sherri Hill Couture Trunk Show May 17th-19th in Granger, Indiana. The prom and pageant industry's top designer, Sherri Hill, will be sending us her top pieces from her latest Spring/Fall 2019 Couture collection as recently seen on the New York Fashion Week runway. We will be taking one-on-one appointments during this time; you will have the opportunity to work with our owner, Ashley, who has had over 15 years of pageant experience to create the gown or wardrobe of your dreams! Appointments will be limited and will fill quickly. Couture gowns will begin around $2,500 and go up from there depending on the design and customizations. If you're shopping for Fall pageants such as Miss Indiana USA and National American Miss, then this is the best time to shop for your wardrobe as there will be plenty of time to order!
If you are a client traveling in from out of town,
we do have hotel accomodations and other amentities within walking distance of our boutique.
Please contact us by emailing ashleyrenes411@gmail.com
or call (574) 522-7766 to schedule your appointment or for more information!


Browse and shop our in stock couture gowns by clicking
here
!
A Sneak Peek of our Private Ashley Rene's Couture Boutique
___________________________________________________________________________________________________________________________________

Ashley Rene's to Relocate and Expand to New Storefronts in Granger
Ashley Rene's is relocating to two locations in Heritage Square in Granger starting January 12, 2019:
Ashley Rene's Prom and Pageant and Ashley Rene's Couture!
Owner Ashley Rene Swathwood says she is excited to offer the Michiana area a bigger and better experience with Ashley Rene's.
"This move to an outdoor, high-end shopping area has been my ultimate dream," Swathwood said.
"With two storefronts, we'll be able to offer twice as many dressing rooms, a wider selection of designers and price points along with a designated space for custom and couture lines."
Swathwood said that with the move, Ashley Rene's will be hiring twice as many part-time and full-time employees and will be providing internships for young people in the area who are interested in a career in fashion, business, or entrepreneurship.
Customers can look forward to the distinct storefronts. Ashley Rene's Prom and Pageant will still feature cocktail dresses and gowns for special occasions, pageants, and prom. Ashley Rene's Couture will offer customers designer, couture gowns for everything from pageants to galas to VIP events – the first storefront of its kind in the area.
Ashley Rene's has worked hard to bring a wider array of price points and designers so that everyone, no matter their budget, can have the Ashley Rene's experience.
"When you walk out our doors, you'll have peace of mind that you've purchased a high-quality, designer gown all while receiving our top-notch customer service," said Swathwood.
With more than fifteen years of experience, Swathwood and her staff have consistently ranked as the No. 1 prom and pageant boutique in the United States. Ashley Rene's is a leader in the pageant industry whose gowns have graced the stages of Miss America, Miss USA, red carpets, and more. Additionally, Ashley Rene's has dressed thousands of high school girls for prom, homecoming, and winter formals across the country.