Fabulouss by Mac Duggal
Mac Duggal is one of the industry's leading designers that offers women a Plus Size collection. Fabulouss dresses are made to flatter girls with full figures, and give them style and cut tailored to their size. At Ashley Rene's in Granger, Indiana you will find the best selection of Mac Duggal Fabulouss Plus Size Prom Gowns along with a knowledgable staff to help you find and style the dress of your dreams!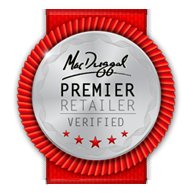 Ashley Rene Prom and Pageant is an authorized Premier Retailer for Mac Duggal.